Teflon® AF 2400 windows for CLIP & SLA 3D printers
Biogeneral casts windows for 3D CLIP and SLA printing from Teflon® AF 2400. The material is ideal for making windows due to its high temperature tolerance, chemical resistance, high transmission and mechanical strength.
Extremely high gas permeability
High optical transmission, >95%, from infared through UV
Ultra low light scattering
Surfaces are optically flat
No fisheyes, voids, bubbles, pinholes or residual solvents
Chemically resistant
Long lasting strength
Puncture resistant
As thin as 0.005"
Size to customer specification
Biogeneral's clean cutting and packaging technique allows us to deliver a ready to install window.
Each window may be laser etched for traceability, upon customers request.
Teflon® AF 2400 Technical Specifications
Optical Transmission >95%
Refractive Index: 1.29
Gas Permeability:

H2 :    220,000 cB
O2:     99,000 cB
N2:     49,000 cB
CO2:  280,000 cB

Chemical Resistance:
Yield Strength:

23.0˚C: 26.4 ± 1.9 MPa
220˚C : 8.7 ± 4.0 MPa

Tensile Strength

23.0˚C: 26.4 ± 1.9 MPa
220˚C : 4.2 ± 4.0 MPa

Elongation at Break

23.0˚C: 7.9 ± 2.3 %
220˚C : 8.4 ± 4.1 %

Tensile Modulus: 1.5 GPa
Flexural Modulus:

23.0˚C: 26.4 ± 1.9 MPa
220˚C : 8.7 ± 4.0 MPa
(View full specifications here)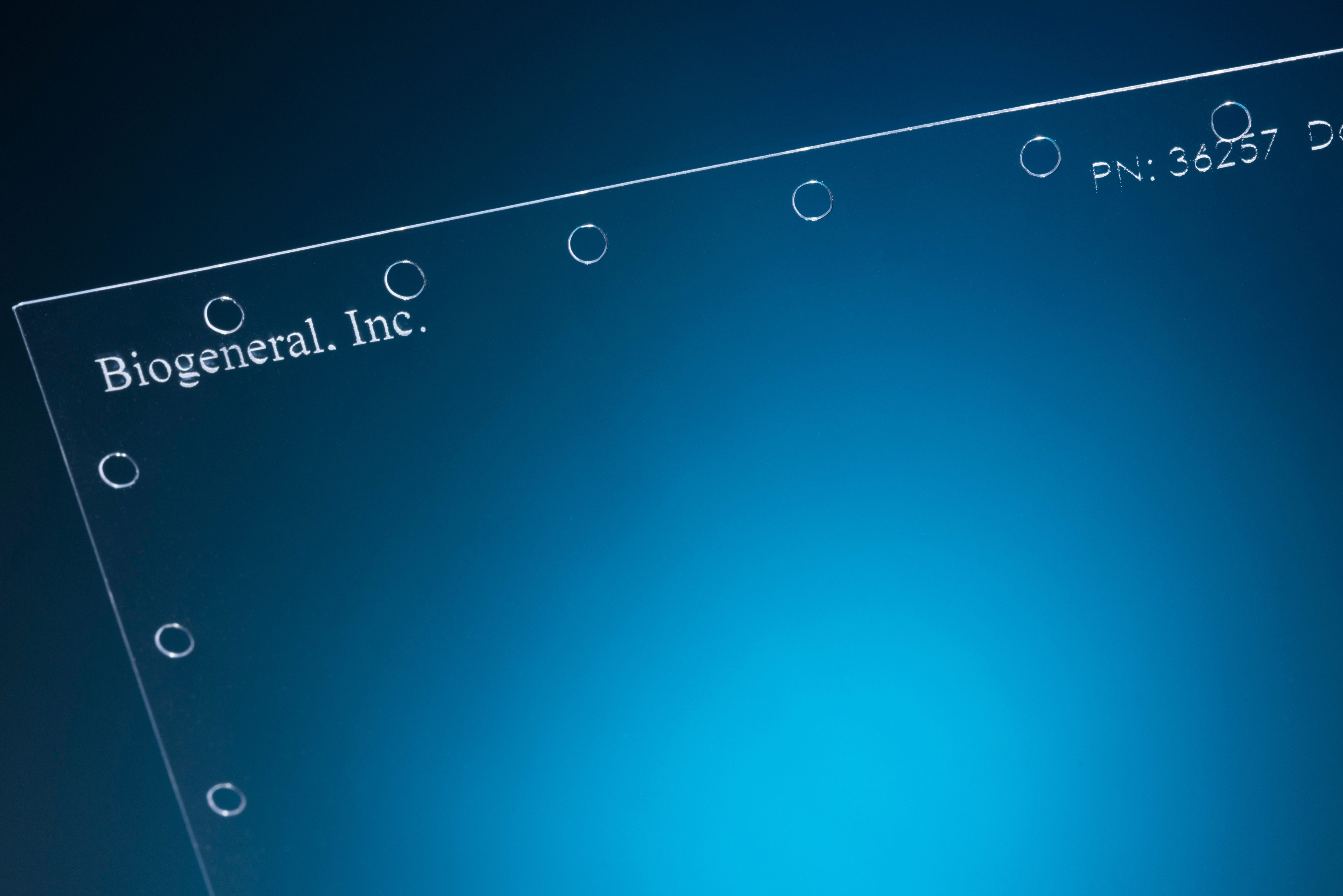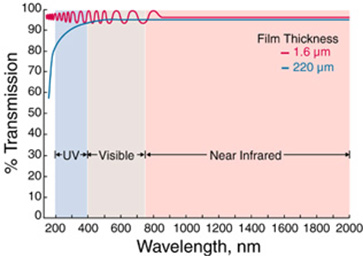 Light transmission percentage for Teflon® AF2400