Monofilament
Biogeneral manufactures monofilament in a variety of materials: Polyester, Polypropylene, Polyamide, Fluoropolymers, Polyurethanes, Thermoplastic Elastomers...

Tubing
Biogeneral manufactures tubing in a wide range of I.D., O.D. and materials: Gas permeable tubing, Bioabsorbables, Flow chemistry structures, Fluoropolymers, Engineering polymers,
Thermoplastic elastomers

Membrane & Film
Biogeneral produces Membrane & Film from these materials: Bioabsorbables, Fluoropolymers, Polyesters, Teflon™ AF...

Bioabsorbable
Biogeneral manufactures bioabsorbable fiber, tubing and film for a variety of applications. We supply monofilament for many applications. Materials available include: PLA, PGA, PLA/PGA, PCL...

Teflon™ AF 2400
Specific Permeability: Exceptional permeability and outstanding solvent resistance have made Teflon™ AF 2400 the preferred material for manufacturing highly efficient specific degassing devices...
Fiber, Tubing & Film Engineering
BIOGENERAL MANUFACTURES HIGH PERFORMANCE MONOFILAMENT, TUBING AND FILM.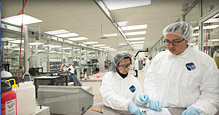 At Biogeneral, technology often advances in unexpected ways. A customer inquiry about high tensile monofilament led us to develop an effective way to process PGA/PLA copolymers into high tensile structures.
Examples of the products we manufacture are monofilament and tubing, bioabsorbable monofilament and tubing, intraocular lens haptic monofilament, membrane and film.
We offer manufacturing support such as: custom braiding, special spooling, cut lengths, forming and assembly.
We specialize in on-time delivery, uncompromising quality and efficient communication.
At Biogeneral, technology often advances in unexpected ways.
We'd love to hear from you. Contact us or call 1.858.453.4451.