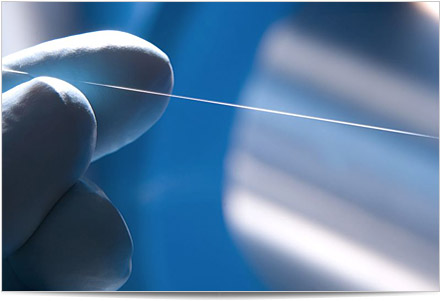 Biogeneral manufactures monofilament in a variety of materials:
Polyester (PET)
Polypropylene (PP)
Polyamide (Nylon)
PEEK®
Fluoropolymers
Polyurethanes
Thermoplastic elastomers (Hytrel®, Engage®, Pebax®)
High modulus polymers (polyethylene naphthalate)
Engineering polymers (polyetherimide, polyethersulfone)
Bioabsorbable Monofilament:
Poly (glycolide)
Poly (L-lactide)
Poly (DL-lactide)
Poly (ε-caprolactone)
Copolymers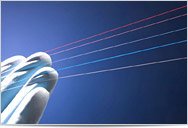 Monofilament is available in diameters starting at 0.0006" (≈15 μm). Radiopaque versions are available.
We will optimize strength, stiffness and elasticity to your requirements.
Please call about custom spooling, cutting, packaging and assembly for your application.
Biocompatibility test results, FDA Device Master File, IDE, and PMA regulatory support are available.
Customers must determine suitability, fitness, safety and effectiveness of Biogeneral products for their application.